Specialist repairs & construction projects across the South since 2004
Complete expertise you can rely on:
The Southern Concrete Services Ltd is founded on engineering excellence and the highest levels of quality and expertise.
Our in-house experience and skills mean we can deliver any project from concrete repairs to fully managed construction projects all with the same exact standards, on time and within budget.

Southern Concrete Services
Southern Concrete Services is the South's leading specialist in concrete repairs, concrete coatings, epoxy coatings, flooring coatings and repairs.
Based in Poole in Dorset on the South Coast, we are proud to offer a full range of services from car park repairs and new flooring to corrosion protection, waterproofing and damp proofing.
From small scale concrete repair projects to large scale developments, we have years of experience in the concrete repair and structural maintenance industry and are well placed to advise you on all your concrete repair or flooring requirements.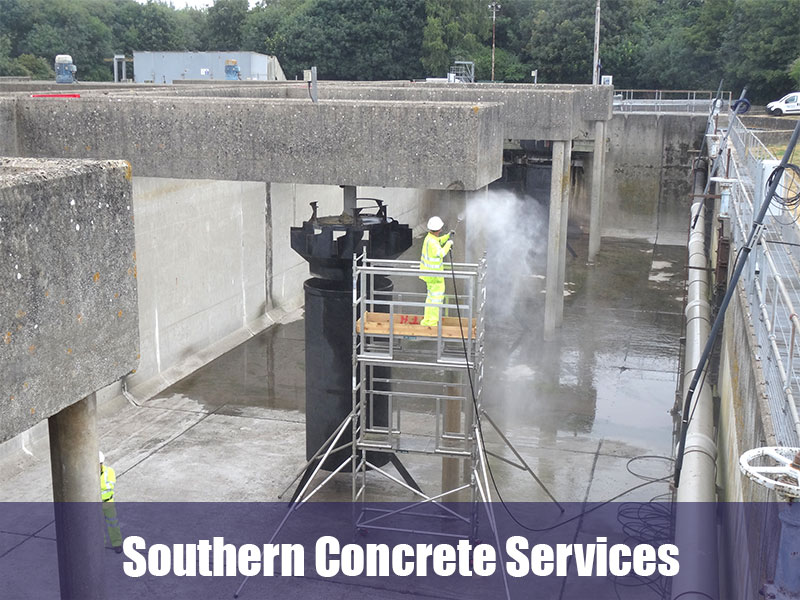 Quality & Safety built into every project
YOU CAN TRUST US TO DELIVER ON QUALITY, COST AND THE HIGHEST
SAFETY STANDARDS ACROSS ALL ASPECTS OF YOUR PROJECT.
Our reputation speaks for itself, we have built a reputation amongst our clients for the highest standard of quality and safety. As a group we are committed to quality workmanship, safety and business integrity.
We exceed our client's expectations from every perspective
Across the Southern Concrete and Construction Group, one of our core values is always to finish each project to our customers' satisfaction. Our work speaks for itself, and we are proud to be continually asked or referred by our clients to complete further projects.
Invested in each project, our dedicated team of specialists approach each task with enthusiasm, accuracy, consistency, care and respect. Due to our years of experience and knowledge we are often called upon to give advice and offer solutions to complex and challenging projects.

We are very happy with the service provided by Southern Concrete Services and the hard work put in by your guys. We found them very polite and co-operative, particularly as they had to work under our permit to work system. We barely knew they were on site as they just got on with the work. I would certainly recommend you.
Mr.L. Courage and his colleagues have provided professional advice when requested, which has been of great benefit and allowed our consultants to take advantage of their years of practical experience and knowledge. Southern Concrete Services have respected the requirements under CDMC and acted in a safe and proper manner. On the whole and based on our experiences with them, I can recommend them and have no hesitation in using them for future work at the University.
Southern Concrete Services have worked within the MOD sector for over seven years. SCS provide excellent job files in line with the high expectations of the MOD and Construction Design Management regulations. Risk Assesment and Method Statements together with COSHH Data sheets, have always been provided for the works. SCS have an excellent H&S record within our Contract. I do not hesitate to recommend SCS as a competent professional contracting service.
Following my site visits, I write to comment on the standard of works achieved by your operatives. I have times my visits to match each stage of the preparation and repair process being undertaken, and I have been impressed by the conscientious and industrious manner your workforce have shown when approaching the various tasks required of them. I know that works are still commencing on-site, and I look forward to my future visits. Keep up the good work.
OUR CLIENT LIST INCLUDES...
Since 2004 we have grown into the South's leading concrete repair and services specialist. The construction side of our group, completes contracts of all sizes, either as principal or sub-contractor utilising all the skills and experience of our directly employed highly skilled workforce.
Quality is driven throughout the company by senior management through to site tradespersons. We are regularly inspected and audited by trade organisations and meet health and safety standards in accordance to the standards and specifications set by our industry's governing bodies.
CALL FOR A FREE CONSULTATION >> 01202 886777
Southern Concrete Services Ltd
27 Slader Business Park
Witney Road
Poole
Dorset
BH17 0GP